2022 qiibee foundation wrap up
2022 was quite a year for the qiibee foundation and to anyone who's been a part of this journey. 
During the last 12 months, qiibee has consolidated its commitment to build a decentralized, scalable and interoperable standard for all loyalty programs and incentive systems powered by the QBX (qiibee token). 
In the years of 2020 and 2021, a series of milestones had already been reached. Consequently, 2022 was about building an even stronger system to achieve our mission. 
2022 retrospective
QBX Newly Optimized Token Economy
As new utilities have been incorporated into our QBX (qiibee token) allowing brands to generate loyalty tokens, trigger transactions and use them as rewards, qiibee foundation released in 2022 a new optimized tokenomics to boost QBX and the ecosystem it powers.
QBX is an utility token which uses cases expanded to QBX exchange in loyalty tokens, swapping QBX for limited NFTs, and using QBX to access rewards. 
In this new tokenomics, QBX has a total supply of 1,380,392,156.
The elevation of the Loyalty Standard through the QBX VIP Club
The QBX VIP Club surged to provide what we call a "supreme VIP". 
It presented itself as an exclusive space for QBX enthusiasts and veterans looking for access to the most epic benefits that can make users' lives even more premium. 
Amongst these benefits, there were: 
Early access to selected new brands and products 

Rewards from brands in the ecosystem

Staking rewards
… And many more!
Since then, the application to access the QBX VIP Club has started. You can still apply here.  
QBX token migration
Our team worked tirelessly to finally enable the migration of all QBX tokens to the Ethereum Blockchain (ERC20).
Before, the QBX token has been available on two major blockchains: Ethereum and Binance, hosting 90% and 10%, respectively, of the total amount of QBX tokens available making for 1.38 billion QBX. 
With the token migration, we aimed to use a single chain by migrating all the QBX tokens to Ethereum.
This was one of the milestones that was programmed for 2022 to provide a token uniformity and to boost the token's value.
QBX VIP Club Survey
Personalization is one of the most important elements when it comes to developing the QBX VIP club for you. 
With the goal of making the Club as personal as possible to all users as they explore the QBX ecosystem, we rolled out a survey to help us ascertain what unique features users would love to see in the club.
The results showed that our users have different tastes for different purposes, from unique traveling experiences to free Netflix subscriptions and delicious gourmet dinners and wine-tasting experiences. 
Check the results of the survey here. 
QBX VIP Club Member-Only Event
Our first VIP Club members-only event, scheduled for the 8th of September 2022, was successfully carried out.
This event was super significant for us, as it was targeted to bring the QBX community together, as we gave insight into the progress of the community so far and the plans we have ahead. 
The event unlocked a new realm of excitement about the VIP club and our community at large. 
Check the highlights of the event here. 
New updates that took qiibee even further
Ecosystem Updates
Qiibee created an updated version of our B2B loyalty marketplace that offers brands the possibility to link with world-renowned partners in our loyalty ecosystem as a means to either boost engagement (buy rewards) or monetize at scale (sell rewards). 
It also allows brands to easily add the option to make their rewards exchangeable to crypto or NFTs.
Another important milestone is that in July 2022, in an attempt to expand our global footprint, we raised $4.8m following the close of a seed funding round led by Z5 Capital. 
Furthermore, Coca-Cola HBC Switzerland partnered with qiibee to enable participants to earn points by interacting and giving feedback on an employee survey.
Check all the Ecosystem updates here. 
Market Updates
Some market updates also shed a new light upon the necessity of ecosystems such as qiibee's. 
In 2022, we saw that about 50% of loyalty executives planned to invest in tiered/experience-based rewards. 
We also saw that 53% of brands don't offer their members ways to earn money through partnered brands, making them leave an average of $150M on the table. 
And finally, we examined the top 5 loyalty investments that executives aim to implement to boost member engagement and customer spending, among other desirable outcomes. The top 5 loyalty investments were:
Mobile Experience

Rewards and benefits

Personalization

Automation

Partnerships
Check more of the market's updates in 2022 here.
2022 wrap-up
It was a busy year, indeed. But it also powered up and boosted our willingness to go further and bring more solutions to the world of loyalty programs. 
We know by now that the web3 world is about making individuals feel like they have true ownership, leading up to unique experiences. Therefore we are here to help you provide them in 2023 and in the years to come. 
For now, we wish you a happy New Year, full of accomplishments and realizations. We'll be here for whatever you need. Happy 2023!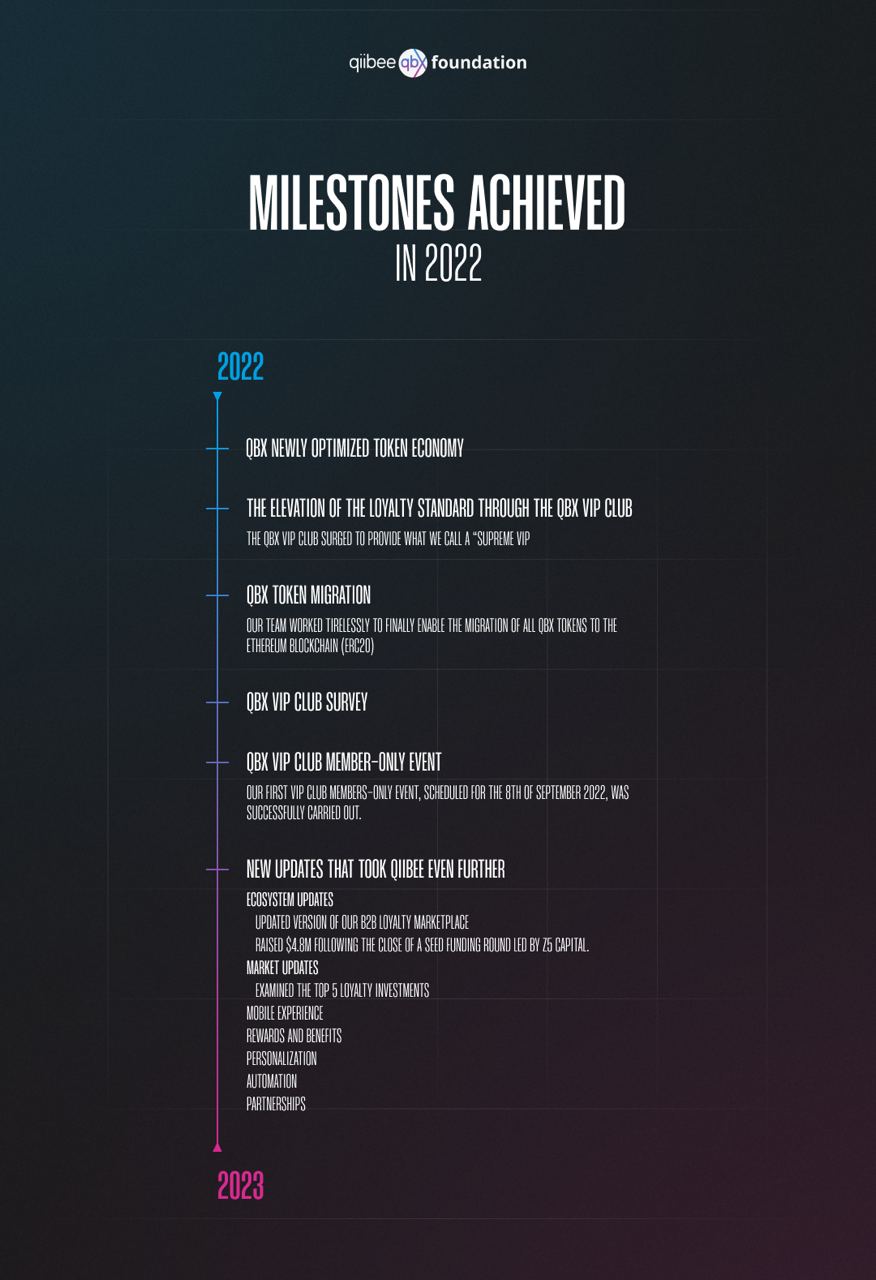 The qiibee foundation is the world's leading blockchain provider for the global loyalty market.
Our mission is to build a decentralized, scalable and interoperable standard for all loyalty programs and incentive systems powered by the QBX.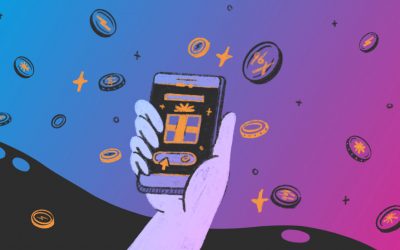 The past few months have been monumental for the QBX community, marking a series of milestones and...