The Swap Option From QBX-BEP2 to QBX-ERC20
We have been working around the clock in synchrony with our roadmap and have gotten to one of the most interesting moments: QBX token migration. The implementation of the token migration has been one of our milestones that will come available in the next few weeks. Token migration is the transitioning of crypto wallet tokens from one blockchain to another. 
What does that mean for our QBX? For a long time now, the QBX token has been available on two major blockchains: Ethereum and Binance, hosting 90% and 10%, respectively, of the total amount of QBX tokens available making for 1.38 billion QBX. With the token migration, we aim to use a single chain by migrating all the QBX tokens to Ethereum.
It's important to note that this isn't the introduction of a cross-chain bridge but a complete and permanent transition to ERC20 tokens on Ethereum. Thus we will ask QBX token holders to exchange their current tokens for the new ones, and with that, the previous tokens will be burned.
Why the QBX Token Migration Is Important
There are several reasons why we've decided to make this move, but two important reasons concerning the qiibee foundation, the QBX ecosystem and our community are to highlight:
Token Uniformity
As stated earlier, the QBX token is currently hosted on two different blockchains: Ethereum (ERC20 tokens) and Binance (BEP-2 tokens). By carrying out this migration we are fostering uniformity across our ecosystem and that requires prompting everyone to follow the swap procedure that would lead to a permanent form of Ethereum-based QBX. After this migration, users will be able to interact with their tokens within the QBX ecosystem and outside it more easily. 
Token Value
In the past years, we, as much as the entire crypto space, are experiencing wallet inactiveness. This occurs when token holders lose their private key or general access to their wallets, leading to asset inactivity. The migration will address such inactivity by weeding out inactive tokens which will allow us to focus on active token holders. By prompting those who are inactive to become active or to let active members gain more prominence in the ecosystem, we can increase the usage and value of the QBX token through different loyalty incentives that generate more utility around the use cases of the token. 
So, the token migration is a win-win case for brands in our ecosystem, our loyalty token holders, and strategic partners.
What's coming next? We'll be sharing more information about this migration of wallet tokens, including a detailed step-by-step guide about how to carry out the migration. After that, a new era of loyalty is meant to sprout!
The qiibee foundation is the world's leading blockchain provider for the global loyalty market.
Our mission is to build a decentralized, scalable and interoperable standard for all loyalty programs and incentive systems powered by the QBX.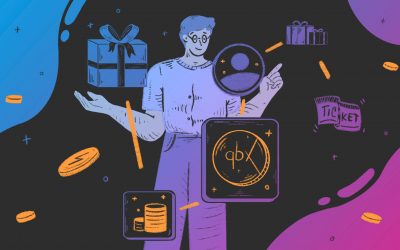 With a vision to maximize the value of loyalty programs and increase the liquidity of rewards,...