Key Moments That Fueled qiibee's Impressive Growth
The last 24 months have been full of learnings, new developments, and many achieved milestones for the qiibee ecosystem.
You didn't hear a lot from us, because we were heads down building our product and onboarding new brands into our ecosystem.
Here you have an overview of the most important milestones we have achieved over the last 24 months to achieve our vision of a global, decentralized loyalty ecosystem.
Mission: Unlock the purchasing power of the global rewards economy by making all rewards exchangeable in one decentralized loyalty ecosystem.
2020
Q1

Loyalty Survey with more then 700 participants
TakeCare Token Campaign for Covid more then 1'000 participants

Q2

Swap Option from QBX-BEP2 to QBX-ERC20
Frequent Flyer Survey with more than 1'400 participants
Onboarded new Head of Marketing and Content Manager

Q3

New channel partner Boost Group
Onboarded 1 new Head of Sales and 1 new Full-Stack Engineer
qiibee yearly team get-together

Q4

Ecosystem Integration for Miles from Miles & More and Etihad Guest completed
New Channel Partner Vertikom Switzerland
International Air Travel Association Webinar
Launch of our Loyalty Dashboard 2.0
2021
Q1

Launch Louis Erard loyalty program with integration of Miles & More and Etihad Guest on the qiibee blockchain
Deloitte & qiibee "Watch Industry & Technology" Webinar
Podcast "Loyalty on the Blockchain" with Loyalty Talk
New Channel Partner Kettydo+
Blockchain & Crypto Masterminds Webinar
Vivaldi & qiibee "Tech is not the answer, or is it?" webinar with Cardano and Asgard
Listed in the CV VC Top 50 Report as Challengers

Q2

Launch Loyalty Program

That's Italia
Banchini
Musei del Cibo
Sole 24 Ore – CEO Confidential first loyalty NFT use case
Deloitte & qiibee "Innovation in the Watch Industry" webinar
Louis Erard NFT Digital Twin use case CHF 1m worth of watches sold in a few hours

EY & qiibee "Blockchain Normalized" webinar with Cardano and WEF
Vivaldi & qiibee "Is brand loyalty dead" webinar with American Express, R/GA and Current
Podcast "Blockchain Loyalty" with The Loyalty Podcast

Q3

Launch Loyalty Programs

Più Hotels
32 Via dei Birrai

Onboarded 1 new

Junior Front-End Engineer
Junior Backend Engineer
Junior Product Manager

qiibee Summer team get together
Completely new Customer Integration and Success Documentation for the brands joining our ecosystem
Onboarding of new advisors for the qiibee foundation

Jacques Rosio, former President Mondalez LATAM
Günther Dobrauz, Leader of PwC Legal Switzerland

 Q4

Launch Loyalty Programs

Sole 24 Ore – How to Spend It NFT use case
UNHCR charity with NFTs from cartoonist Hani Abbas

Podcast "Blockchain and NFTs" with Baselworld
Webinar "Loyalty Live" with Loyalty360
Participation Accelerator Trenitalia, the national Italian rail way
Launch of Loyalty Survey for our Loyalty Trend Report 2022
EY & qiibee Blockchain Survey 2021
Launch qiibee foundation website
Launch of QBX Membership Program application page
All milestones and goals achieved in the last 24 months show that we are building a real business behind qiibee and can now focus more on increasing the distribution and the awareness of the qiibee ecosystem and QBX.
With the growth we are experiencing through the onboarding of more and larger brands in our ecosystem, it's the perfect timing to invest more resources in expanding the qiibee ecosystem by reaching new token holders through new products, new exchanges and more marketing activities.
We are super excited to share more news in the coming months as we are ramping up activities to position qiibee ecosystem and the QBX as the leader in loyalty on the blockchain.
The qiibee foundation is the world's leading blockchain provider for the global loyalty market.
Our mission is to build a decentralized, scalable and interoperable standard for all loyalty programs and incentive systems powered by the QBX.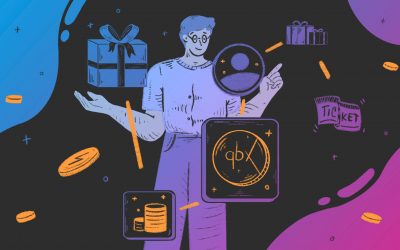 With a vision to maximize the value of loyalty programs and increase the liquidity of rewards,...