Top 3 Reasons Why You Should Take Part in the VIP Club Survey Today!
Personalization is one of the most important elements when it comes to developing the QBX VIP club for you. We would love to make the Club as personal as possible to you as you explore the QBX ecosystem. It is for this reason that we rolled out a survey to help us ascertain what unique features you would love to see in the club.
Also, as an extra incentive, if you fill out the survey before the 4th of September, we'll send you 10 qiibee reward points (QPRs)  in the value of $10!
So here are the 3 main reasons you should take part in this survey now!:
3 Reasons to Participate in the QBX VIP Club Survey
By participating in the QBX VIP club survey, you can truly shape and personalize the VIP Club to your taste, by helping us define what VIP perks you'd like to benefit from, once you are a member. There are 3 main categories of perks we are focusing on in the survey: i) Travels,  ii) Self-development & Networking, and iii) Experiences. As an example, within the category of travel, if you could pick three of the below listed choices, which one  would you choose?


 

Upgrade to business class

Free airport limousine transfers

Room upgrade to the best available room in your chosen hotel

Receive free airline ticket

Receive double amount of miles

20-30% hotel discounts on Booking.com 

Free access to VIP airport lounge and VIP concierge

20% purchase rebate on Expedia

Purchase rebate on Airbnb booking (USD 100 equivalent)

20% purchase rebate on Booking.com
So which one would you pick? 😉 Do not hesitate sharing your favorite choice by filling out the survey! 
2. A second reason to fill out our survey now is that you can gain $10 worth of qiibee reward points, which you can exchange for Ethereum, for instance. This comes especially handy now, since you can also use it for the token migration! Namely, to carry out the migration, you'll need around 0.005 ETH in your wallet. So this time, you can easily get this amount onto your wallet by filling out the survey until next week.
3. Thirdly, the qiibee team is working diligently behind the scenes to create an experience like no other, and as such, we plan to invite an amazing keynote speaker to one of our member-only events. If you fill out the survey and join the club, you will be able to enjoy his speech completely for free as one of our VIPs!
So after all said, you can fill out the survey here until next week.
As always, if you have any questions in the process, do not hesitate to reach out to us. We are always here for you, so make sure you contact us if needed.  We look forward to receiving your opinions and sharing the results with you in the upcoming blog posts!
The qiibee foundation is the world's leading blockchain provider for the global loyalty market.
Our mission is to build a decentralized, scalable and interoperable standard for all loyalty programs and incentive systems powered by the QBX.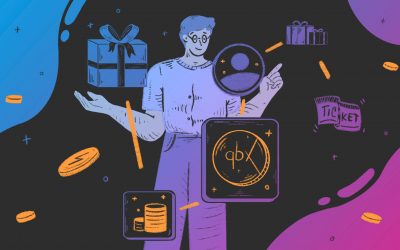 With a vision to maximize the value of loyalty programs and increase the liquidity of rewards,...