qiibee Foundation Launches "Spin the Wheel" Contest
The priority of qiibee foundation has always been to develop the best experience in loyalty on the blockchain, a fact that is already known for those who have stayed up to date on our initiatives in the last few months.
At qiibee foundation, we like to amaze and keep our users close through our own loyalty initiatives which aim not only at our clients' satisfaction, but also at their trust in our continuous efforts to make them feel unique and appreciated. We are constantly churning up new ideas to improve the experience of our community. 
So, this time, we came up with another fun and easy challenge for all of our followers to enjoy: a Spin the Wheel contest!
Spin the Wheel
The Spin the Wheel contest was made for all of our existing and new community, with a focus on ensuring you join us on social media for all updates to come (Twitter and Instagram more specifically)! Everyone can take part in this contest in order to compete for really valuable rewards from the qiibee ecosystem such as:
qiibee tokens (QBX)

Etihad miles

Fan to Honorary Membership Invitations

VIR-s (the reward of the VIP Club)
And more!
How to Participate in the "Spin the Wheel" challenge
 To participate in the challenge is very easy:
Find the post and Spin the wheel

HERE

Enjoy the rewards you get! 
Every single spin wins a prize! 
Please note : each contestant can spin the wheel only once!    
The wheel will look like this: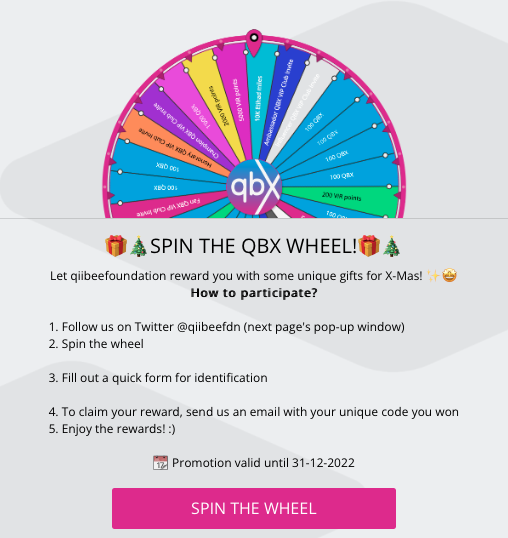 The promotion will be available until 31-12-2022, so this is the perfect opportunity to award yourself a Christmas gift, courtesy of qiibee! 
More than just prizes
A loyalty initiative is more than distributing prizes. 
What the qiibee foundation wants to bring to their audiences is the possibility of unique ownership and the feeling of being truly valued in the ecosystem.
We believe that no program inside the web3 universe is complete without the people that make it happen, and it involves not only the staff members but also the users who believe and invest their time and assets into the project.
Therefore, to offer loyalty rewards is nothing more than a way of paying back this trust and faithful engagement from those who want this project to evolve as much as we do. 
And while our users enjoy their perks, qiibee foundation will keep up its work to become the global standard for loyalty in the blockchain, providing the future and the opportunity to tap into the full potential of loyalty to anyone who comes to us.
The qiibee foundation is the world's leading blockchain provider for the global loyalty market.
Our mission is to build a decentralized, scalable and interoperable standard for all loyalty programs and incentive systems powered by the QBX.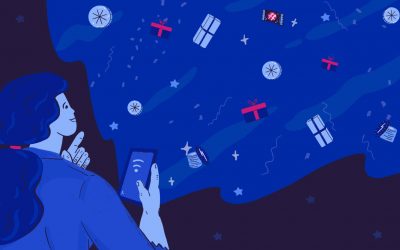 What happened in the web3 loyalty space in April 2023? Here is a short recap while a hot May is in...