QBX VIP Club: What is it and Why Join – FAQ
1. What is the VIP Club?
QBX VIP Club is the loyalty membership club of the qiibee foundation.  Our mission with the VIP Club is to provide one the most exclusive global invite-only Club experience to our members. We aim to empower our most loyal token holders with an NFT-based loyalty membership giving access to VIP experiences, unique perks and exclusive rewards from our ecosystem.
2. Why is it worth joining?
QBX VIP Club offers unique perks to all members and provides experiences of invite-only events, webinars and the meeting of other like-minded people. Check some of the perks and accesses granted by becoming a member:
Crypto expert talks

Traveling discounts

Club events

Outdoor Cinema Event

Visiting beauty contests

Formula 1 entries

Yacht Tours

Netflix memberships 

Amazon Prime memberships
And many others:
Quarterly Zoom calls

 AMAs

Discord channels / tier

 Yearly in-person VIP
3. Current Members
Currently, our QBX VIP Club already has as members Fortune 500 companies' CEOs, successful entrepreneurs, founders and crypto-whales from the whole world.  All of our members possess unique qualities, but they do share similar characteristics such as successful careers and stories, creative and entrepreneurial mindsets and the goal of being in the QBX VIP Club to connect, network, develop, grow and enjoy life on an even higher scale. As for our team and ecosystem partners we have experienced people and companies that work tirelessly to improve our program.
4. Different tiers and their differences
The QBX VIP Club has five different types of tiers.  – Fan – Influencer – Champion – Ambassador  – Honorary    The tiers offer different perks and possibilities such as: 
Welcome Bonus

NFT New Member Invites

Qibee Birthday Present

VIP Club Merchandising

Bonus Reward Points (VIRs) 
The higher the tier, the more rewards our members are receiving. Check the box below to see the differences between the tiers: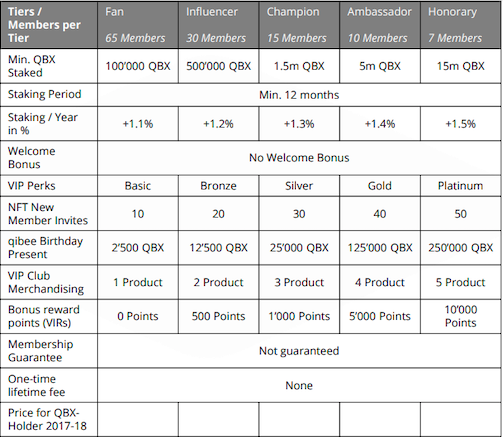 5. Our Perks
The perks of a QBX VIP Club member is based on the tiers in 3 main subcategories:  
5.1. Super-exclusivity (invite-only club)
Each membership is a tradable NFT with multiple rarity levels, giving access to all perks of the Club

The number of memberships will always be limited
5.2. Get unique Perks and VIP experiences
Get reward points and miles from ecosystem brands

Early access to exclusive VIP experiences
5.3. Gain extra QBX through staking
QBX rewards for staked tokens 

Welcome bonus, birthday gifts in tokens 
6. How can one join the club?
First of all, the aspiring members should be reminded that the main criteria to be a part of the QBX VIP Club is to stake a specific amount of QBX qiibee tokens. 
But what is staking? 
Staking, in simple words, is to invest your crypto funds in something. 
When you stake cryptocurrency, for instance, you send an amount of your tokens to an account where the funds will be stored and not used. 
This staking provides passive income for the users as rewards. For qiibee tokens' holders, this also applies to the membership of the QBX VIP Club.
Therefore, in QBX VIP Club terms, staking means technically having that specific amount of QBX on your wallet for a fixed 12 months period
So, by whatever means users decide to participate in the VIP club, they must stake qiibee tokens in order to be applicants for the membership.  
The qiibee foundation is the world's leading blockchain provider for the global loyalty market.
Our mission is to build a decentralized, scalable and interoperable standard for all loyalty programs and incentive systems powered by the QBX.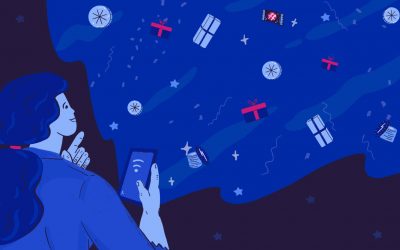 What happened in the web3 loyalty space in April 2023? Here is a short recap while a hot May is in...